What's your favourite scary novel*?
*What the killer would have asked Sydney in Scream if he'd been a huge booknerd like us
It's Halloween time/month/season and we have

queer

horror, thrillers, suspense, vampires, nightmares, zombies and a general sense of gothic, seasonally appropriate impending doom for you in book form. Sound fun? Dive right in: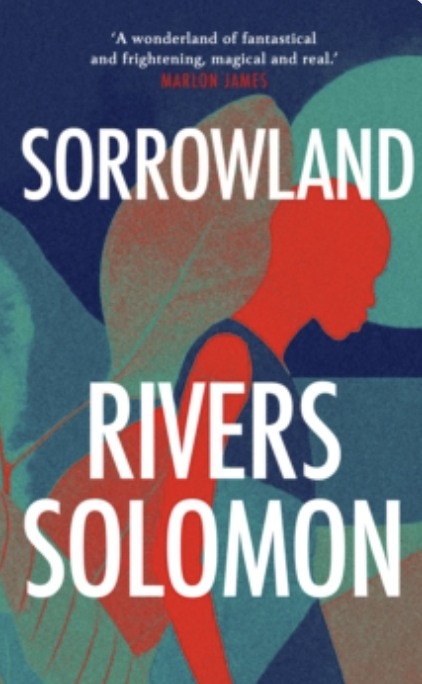 Sorrowland

by Rivers Solomon
-Fantasy
-Horror
-A twist you won't see coming
Vern, a Black woman with albinism, is hunted after escaping a religious compound, then she discovers that her body is changing and that she is developing extra-sensory powers.

Alone in the woods, she gives birth to twins and raises them away from the influence of the outside world. But something is wrong - not with them, but with her own body. It's itching, it's stronger, it's... not normal.

To understand her body's metamorphosis, Vern must investigate not just the secluded religious compound she fled but the violent history of dehumanisation, medical experimentation, and genocide that produced it. In the course of reclaiming her own darkness, Vern learns that monsters aren't just individuals, but entire histories, systems, and nations.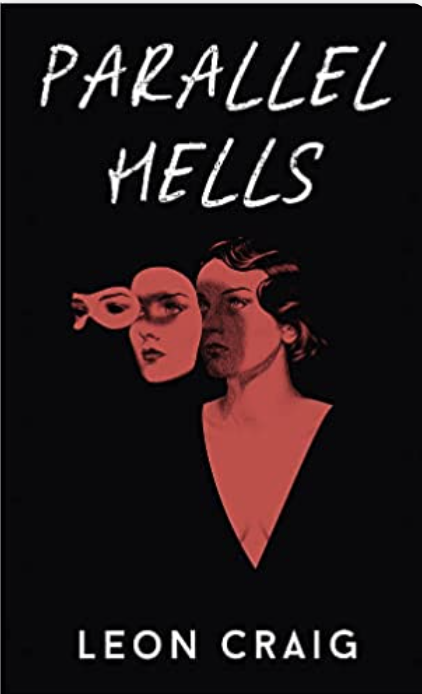 Parallel Hells

by Leon Craig
-Short story collection
-Horror
-Folklore
In this deliciously strange debut collection, Leon Craig draws on folklore and gothic horror in refreshingly inventive ways to explore queer identity, love, power and the complicated nature of being human.

Some say that hell is other people and some say hell is loneliness . . .

In the thirteen darkly audacious stories of Parallel Hells we meet a golem, made of clay, learning that its powers far exceed its Creator's expectations; a ruined mansion which grants the secret wishes of a group of revelers and a notorious murderer who discovers her Viking husband is not what he seems.

Asta is an ancient being who feasts on the shame of contemporary Londoners, who now, beyond anything, wishes only to fit in with a group of friends they will long outlive. An Oxford historian, in bitter competition with the rest of her faculty members, discovers an ancient tome whose sinister contents might solve her problems. Livia orchestrates a Satanic mass to distract herself from a recently remembered trauma and two lovers must resolve their differences in order to defy a lethal curse.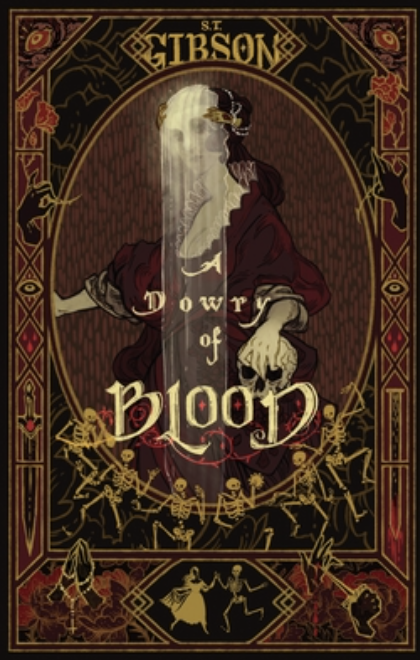 A Dowry of Blood

by ST Gibson
-Vampires
-Horror
-Romance
A lyrical and dreamy reimagining of Dracula's brides, A Dowry of Blood is a story of desire, obsession, and emancipation.

Saved from the brink of death by a mysterious stranger, Constanta is transformed from a medieval peasant into a bride fit for an undying king. But when Dracula draws a cunning aristocrat and a starving artist into his web of passion and deceit, Constanta realizes that her beloved is capable of terrible things. Finding comfort in the arms of her rival consorts, she begins to unravel their husband's dark secrets.

With the lives of everyone she loves on the line, Constanta will have to choose between her own freedom and her love for her husband. But bonds forged by blood can only be broken by death.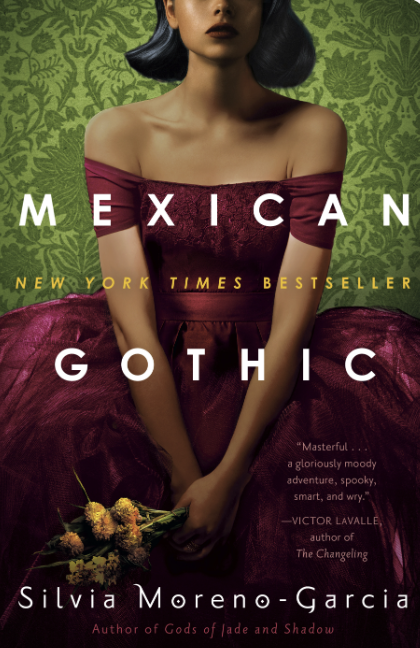 Mexican Gothic

by Silvia Moreno-Garcia
-Horror
-Mystery
-Genuinely scary
After receiving a frantic letter from her newly-wed cousin begging for someone to save her from a mysterious doom, Noemí Taboada heads to High Place, a distant house in the Mexican countryside. She's not sure what she will find—her cousin's husband, a handsome Englishman, is a stranger, and Noemí knows little about the region.

Noemí is also an unlikely rescuer: She's a glamorous debutante, and her chic gowns and perfect red lipstick are more suited for cocktail parties than amateur sleuthing. But she's also tough and smart, with an indomitable will, and she is not afraid: Not of her cousin's new husband, who is both menacing and alluring; not of his father, the ancient patriarch who seems to be fascinated by Noemí; and not even of the house itself, which begins to invade Noemí's dreams with visions of blood and doom.

Her only ally in this inhospitable abode is the family's youngest son. Shy and gentle, he seems to want to help Noemí, but might also be hiding dark knowledge of his family's past. For there are many secrets behind the walls of High Place. The family's once colossal wealth and faded mining empire kept them from prying eyes, but as Noemí digs deeper she unearths stories of violence and madness.

And Noemí, mesmerized by the terrifying yet seductive world of High Place, may soon find it impossible to ever leave this enigmatic house behind.
Into The Drowning Deep

by Mira Grant
-Horror
-Sci-fi
-Thriller
Seven years ago, the Atargatis set off on a voyage to the Mariana Trench to film a "mockumentary" bringing to life ancient sea creatures of legend. It was lost at sea with all hands. Some have called it a hoax; others have called it a maritime tragedy.

Now, a new crew has been assembled. But this time they're not out to entertain. Some seek to validate their life's work. Some seek the greatest hunt of all. Some seek the truth. But for the ambitious young scientist Victoria Stewart this is a voyage to uncover the fate of the sister she lost.

Whatever the truth may be, it will only be found below the waves. But the secrets of the deep come with a price.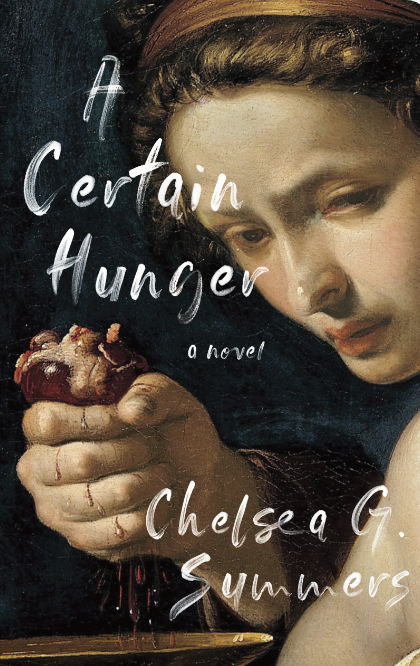 A Certain Hunger

by Chelsea G. Summers
-Horror
-Feminist
-Thriller
Food critic Dorothy Daniels loves what she does. Discerning, meticulous, and very, very smart, Dorothy's clear mastery of the culinary arts make it likely that she could, on any given night, whip up a more inspired dish than any one of the chefs she writes about.

Dorothy loves sex as much as she loves food, and while she has struggled to find a long-term partner that can keep up with her, she makes the best of her single life, frequently traveling from Manhattan to Italy for a taste of both. But there is something within Dorothy that's different from everyone else, and having suppressed it long enough, she starts to embrace what makes Dorothy uniquely, terrifyingly herself.

Recounting her life from a seemingly idyllic farm-to-table childhood, the heights of her career, to the moment she plunges an ice pick into a man's neck on Fire Island, Dorothy Daniels show us what happens when a woman finally embraces her superiority.

A satire of early foodieism, a critique of how gender is defined, and a showcase of virtuoso storytelling, Chelsea G. Summers' A Certain Hunger introduces us to the food world's most charming psychopath and an exciting new voice in fiction.
Summer Sons

by Lee Mandelo
-Horror
-Mystery
-Thriller
Andrew and Eddie did everything together, best friends bonded more deeply than brothers, until Eddie left Andrew behind to start his graduate program at Vanderbilt. Six months later, only days before Andrew was to join him in Nashville, Eddie dies of an apparent suicide. He leaves Andrew a horrible inheritance: a roommate he doesn't know, friends he never asked for, and a gruesome phantom with bleeding wrists that mutters of revenge.

As Andrew searches for the truth of Eddie's death, he uncovers the lies and secrets left behind by the person he trusted most, discovering a family history soaked in blood and death. Whirling between the backstabbing academic world where Eddie spent his days and the circle of hot boys, fast cars, and hard drugs that ruled Eddie's nights, the walls Andrew has built against the world begin to crumble, letting in the phantom that hungers for him.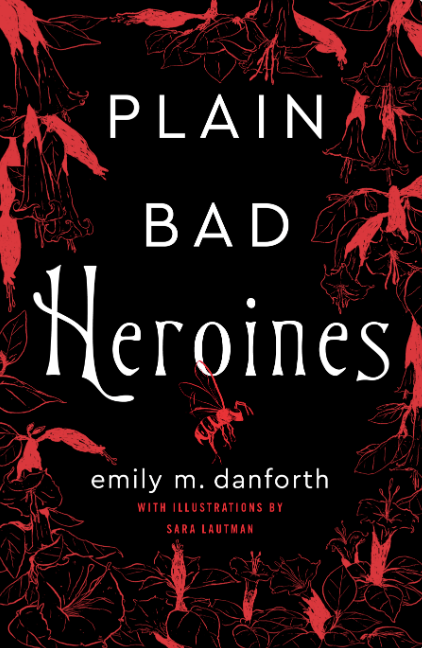 Plain Bad Heroines

by Emily M Danforth
-Horror
-Historical
-Mystery
Our story begins in 1902, at The Brookhants School for Girls. Flo and Clara, two impressionable students, are obsessed with each other and with a daring young writer named Mary MacLane, the author of a scandalous bestselling memoir. To show their devotion to Mary, the girls establish their own private club and call it The Plain Bad Heroine Society. They meet in secret in a nearby apple orchard, the setting of their wildest happiness and, ultimately, of their macabre deaths. This is where their bodies are later discovered with a copy of Mary's book splayed beside them, the victims of a swarm of stinging, angry yellow jackets. Less than five years later, The Brookhants School for Girls closes its doors forever—but not before three more people mysteriously die on the property, each in a most troubling way.

Over a century later, the now abandoned and crumbling Brookhants is back in the news when wunderkind writer, Merritt Emmons, publishes a breakout book celebrating the queer, feminist history surrounding the "haunted and cursed" Gilded-Age institution. Her bestselling book inspires a controversial horror film adaptation starring celebrity actor and lesbian it girl Harper Harper playing the ill-fated heroine Flo, opposite B-list actress and former child star Audrey Wells as Clara. But as Brookhants opens its gates once again, and our three modern heroines arrive on set to begin filming, past and present become grimly entangled—or perhaps just grimly exploited—and soon it's impossible to tell where the curse leaves off and Hollywood begins.

A story within a story within a story and featuring black-and-white period illustrations.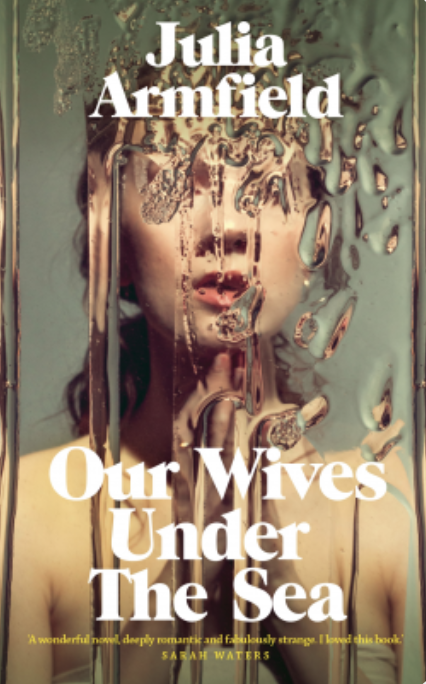 Our Wives Under The Sea

by Julia Armfield
-Dark
-Foreboding
-Submarines
Miri thinks she has got her wife back, when Leah finally returns after a deep-sea mission that ended in catastrophe. It soon becomes clear, though, that Leah is not the same. Whatever happened in that vessel, whatever it was they were supposed to be studying before they were stranded on the ocean floor, Leah has brought part of it back with her, onto dry land and into their home.

Moving through something that only resembles normal life, Miri comes to realize that the life that they had before might be gone. Though Leah is still there, Miri can feel the woman she loves slipping from her grasp.

Our Wives Under The Sea is the debut novel from Julia Armfield, the critically acclaimed author of salt slow. It's a story of falling in love, loss, grief, and what life there is in the deep deep sea.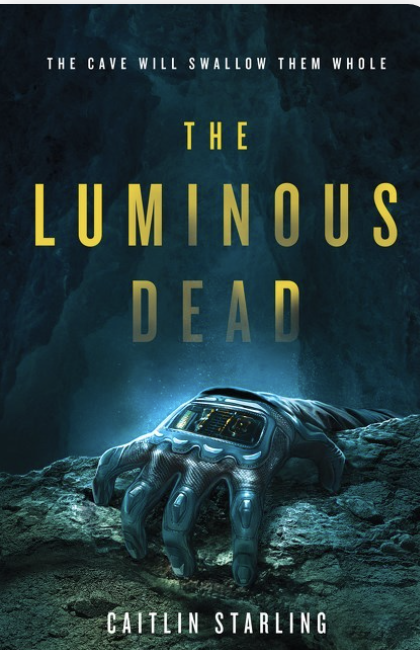 The Luminous Dead

by Caitlin Starling
-Horror
-Sci-fi
-Space gays
A thrilling, atmospheric debut with the intensive drive of The Martian and Gravity and the creeping dread of Annihilation, in which a caver on a foreign planet finds herself on a terrifying psychological and emotional journey for survival.

When Gyre Price lied her way into this expedition, she thought she'd be mapping mineral deposits, and that her biggest problems would be cave collapses and gear malfunctions. She also thought that the fat paycheck—enough to get her off-planet and on the trail of her mother—meant she'd get a skilled surface team, monitoring her suit and environment, keeping her safe. Keeping her sane.

Instead, she got Em.

Em sees nothing wrong with controlling Gyre's body with drugs or withholding critical information to "ensure the smooth operation" of her expedition. Em knows all about Gyre's falsified credentials, and has no qualms using them as a leash—and a lash. And Em has secrets, too . . .

As Gyre descends, little inconsistencies—missing supplies, unexpected changes in the route, and, worst of all, shifts in Em's motivations—drive her out of her depths. Lost and disoriented, Gyre finds her sense of control giving way to paranoia and anger. On her own in this mysterious, deadly place, surrounded by darkness and the unknown, Gyre must overcome more than just the dangerous terrain and the Tunneler which calls underground its home if she wants to make it out alive—she must confront the ghosts in her own head.

But how come she can't shake the feeling she's being followed?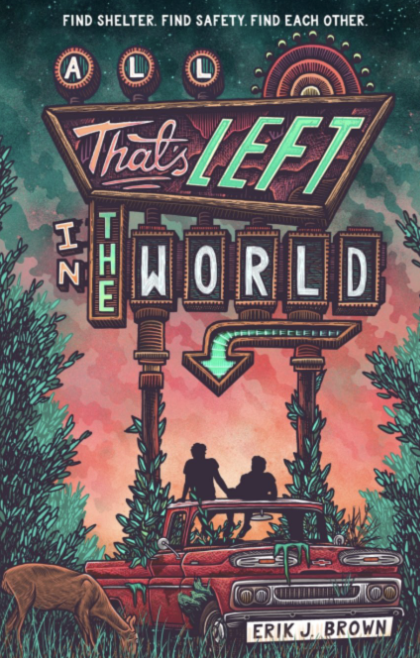 All That's Left In The World

by Erik J Brown
-YA
-Dystopia
-Romance
Jamie and Andrew are strangers, and two of the last people on Earth. They don't know what they'll find on their perilous journey ... but they may just find each other. A queer romance about courage, hope and humanity - this is How I Live Now with the heart of Simon Vs The Homo Sapiens Agenda.

When the Superflu wipes out most of the population, Jamie finds himself completely alone in a cabin in the woods - until an injured stranger crosses his path.

Life is dangerous now and, armed with a gun, Jamie goes to pull the trigger. But there's something about Andrew ... something that stops Jamie in his tracks. Jamie takes him in, and as Andrew heals and they eventually step out into the strange new world, their relationship starts to feel like more than just friendship ...

But trouble isn't far behind. As the boys make a perilous journey south, they'll come face to face with a world torn apart and society in ruins. And who, or what, will they find waiting for them at the end of it all?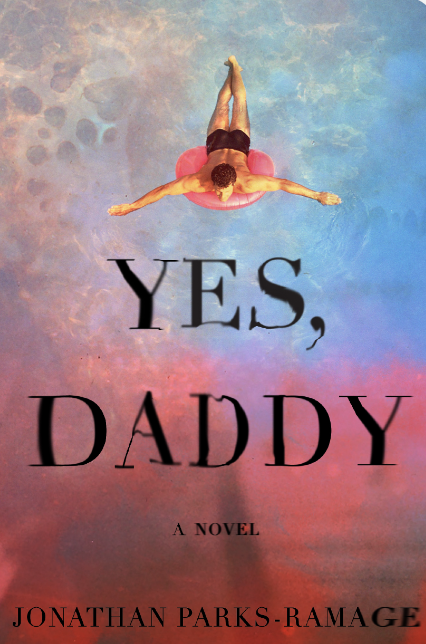 Yes, Daddy

by Jonathan Parks-Ramage
-Thriller
-Mystery
-Dark
-The title alone makes this worth reading, surely
A propulsive, scorching modern gothic, Yes, Daddy follows an ambitious young man who is lured by an older, successful playwright into a dizzying world of wealth and an idyllic Hamptons home where things take a nightmarish turn.

Jonah Keller moved to New York City with dreams of becoming a successful playwright, but, for the time being, lives in a rundown sublet in Bushwick, working extra hours at a restaurant only to barely make rent. When he stumbles upon a photo of Richard Shriver—the glamorous Pulitzer Prize–winning playwright and quite possibly the stepping stone to the fame he craves—Jonah orchestrates their meeting. The two begin a hungry, passionate affair.

When summer arrives, Richard invites his young lover for a spell at his sprawling estate in the Hamptons. A tall iron fence surrounds the idyllic compound where Richard and a few of his close artist friends entertain, have lavish dinners, and—Jonah can't help but notice—employ a waitstaff of young, attractive gay men, many of whom sport ugly bruises. Soon, Jonah is cast out of Richard's good graces and a sinister underlay begins to emerge. As a series of transgressions lead inexorably to a violent climax, Jonah hurtles toward a decisive revenge that will shape the rest of his life.

Riveting, unpredictable, and compulsively readable, Yes, Daddy is an exploration of class, power dynamics, and the nuances of victimhood and complicity. It burns with weight and clarity—and offers hope that stories may hold the key to our healing.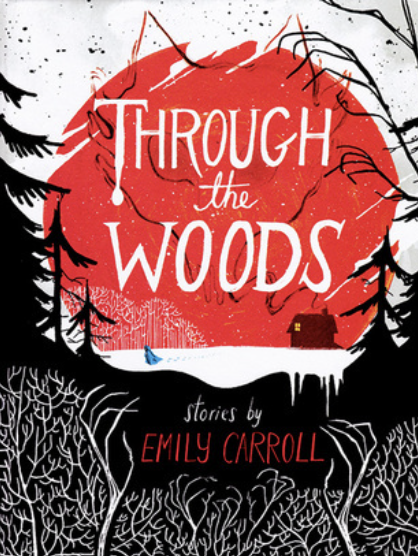 Through The Woods

by Emily Carrol
-Graphic novel
-Horror
-Short stories
'It came from the woods. Most strange things do.'

Five mysterious, spine-tingling stories follow journeys into (and out of?) the eerie abyss.

These chilling tales spring from the macabre imagination of acclaimed and award-winning comic creator Emily Carroll.

Come take a walk in the woods and see what awaits you there...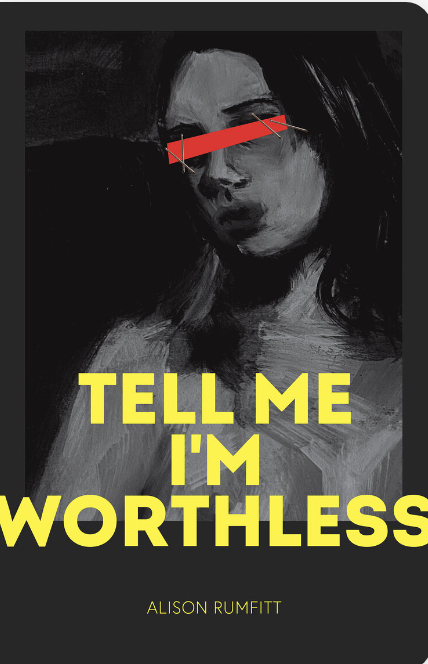 Tell Me I'm Worthless

by Alison Rumfitt
-Horror
-Haunted house
-Gothic
A dark, unflinching haunted house novel that takes readers from the well of the literary gothic, up through Brighton's queer scene, and out into the heart of modern day trans experience in the UK.

The House spreads. Its arteries run throughout the country. Its lifeblood flows into Westminster, into Scotland Yard, into every village and every city. It flows into you, and into your mother. It keeps you alive. It makes you feel safe. Those same arteries tangle you up and night and make it hard for you to breathe. But come morning, you thank it for what it has done for you, and you sip from its golden cup, and kiss its perfect feet, and you know that all will be right in this godforsaken world as long as it is there to watch over you.

Three years ago, Alice spent one night in an abandoned house with her friends Ila and Hannah. Since then, things have not been going well. Alice is living a haunted existence, selling videos of herself cleaning for money, going to parties she hates, drinking herself to sleep. She hasn't spoken to Ila since they went into the House. She hasn't seen Hannah either.

Memories of that night torment her mind and her flesh, but when Ila asks her to return to the House, past the KEEP OUT sign, over the sick earth where teenagers dare each other to venture, she knows she must go.

Together Alice and Ila must face the horrifying occurrences that happened there, must pull themselves apart from the inside out, put their differences aside, and try to rescue Hannah, who the House has chosen to make its own.

Cutting, disruptive, and darkly funny, Tell Me I'm Worthless is a vital work of trans fiction that confronts both supernatural and real-world horrors as it examines the devastating effects of trauma and the way fascism makes us destroy ourselves and each other.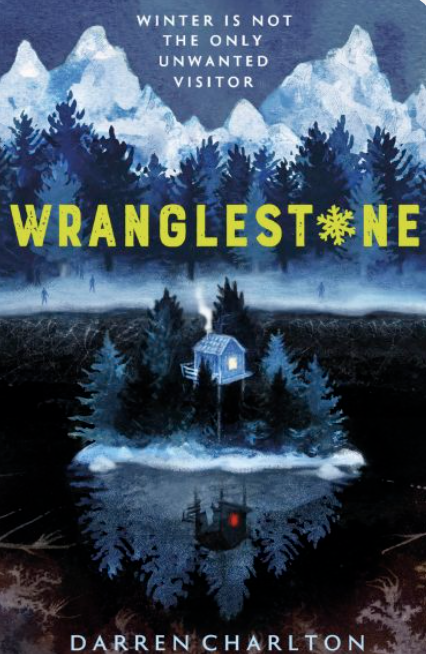 Wranglestone

by Darren Charleton
-YA
-Zombies
-Dystopia
Winter was the only season every Lake-Lander feared...

In a post-apocalyptic America, a community survives in a national park, surrounded by water that keeps the Dead at bay. But when winter comes, there's nothing to stop them from crossing the ice.

Then homebody Peter puts the camp in danger by naively allowing a stranger to come ashore and he's forced to leave the community of Wranglestone. Now he must help rancher Cooper, the boy he's always watched from afar, herd the Dead from their shores before the lake freezes over.

But as love blossoms, a dark discovery reveals the sanctuary's secret past. One that forces the pair to question everything they've ever known.

An action-packed and thought-provoking debut, for fans of Patrick Ness, Marcus Sedgwick, DREAD NATION and The Walking Dead.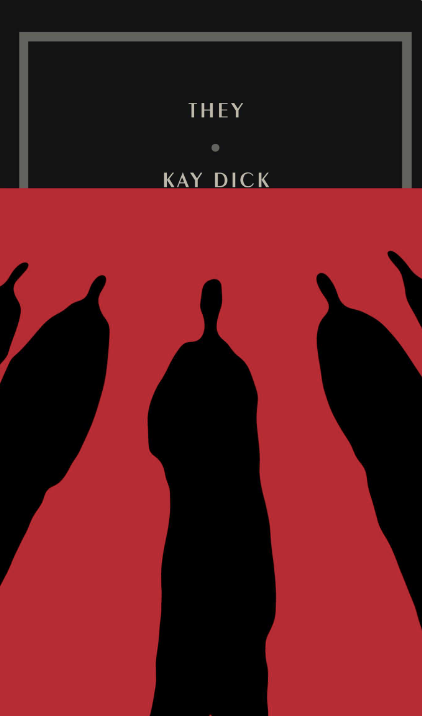 They

by Kay Dick
-Dystopian
-Horror
-Violent
A dark, dystopian portrait of artists struggling to resist violent suppression—"queer, English, a masterpiece." (Hilton Als)

Set amid the rolling hills and the sandy shingle beaches of coastal Sussex, this disquieting novel depicts an England in which bland conformity is the terrifying order of the day. Violent gangs roam the country destroying art and culture and brutalizing those who resist the purge. As the menacing "They" creep ever closer, a loosely connected band of dissidents attempt to evade the chilling mobs, but it's only a matter of time until their luck runs out.

Winner of the 1977 South-East Arts Literature Prize, Kay Dick's They is an uncanny and prescient vision of a world hostile to beauty, emotion, and the individual.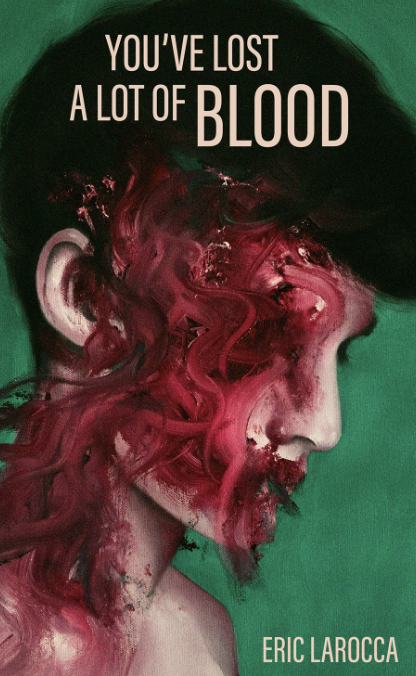 You've Lost a Lot of Blood

by Eric LaRocca
-Novella
-Horror
-Thriller
A disturbing new vision of terror from the author of Things Have Gotten Worse Since We Last Spoke.

"Each precious thing I show you in this book is a holy relic from the night we both perished-the night when I combed you from my hair and watered the moon with your blood.

You've lost a lot of blood . . ."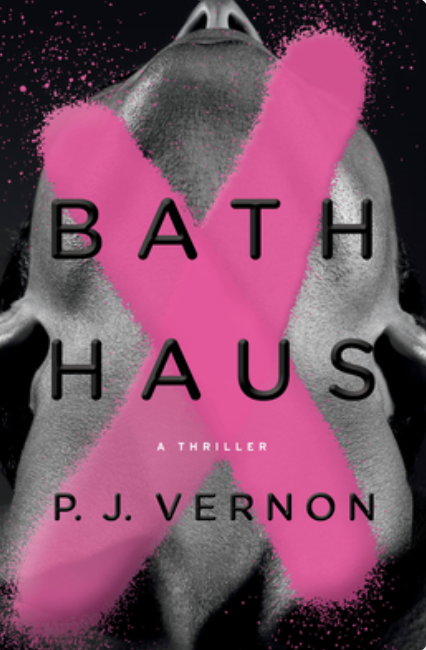 Bath Haus

by PJ Vernon
-Thriller
-Suspense
-Mystery
Oliver Park, a young recovering addict from Indiana, finally has everything he ever wanted: sobriety and a loving, wealthy partner in Nathan, a prominent DC trauma surgeon. Despite their difference in age and disparate backgrounds, they've made a perfect life together. With everything to lose, Oliver shouldn't be visiting Haus, a gay bathhouse. But through the entrance he goes, and it's a line crossed. Inside, he follows a man into a private room, and it's the final line. Whatever happens next, Nathan can never know. But then, everything goes wrong, terribly wrong, and Oliver barely escapes with his life.

He races home in full-blown terror as the hand-shaped bruise grows dark on his neck. The truth will destroy Nathan and everything they have together, so Oliver does the thing he used to do so well: he lies.

What follows is a classic runaway-train narrative, full of the exquisite escalations, edge-of-your-seat thrills, and oh-my-god twists. P. J. Vernon's Bath Haus is a scintillating thriller with an emotional punch, perfect for readers curious for their next must-read novel.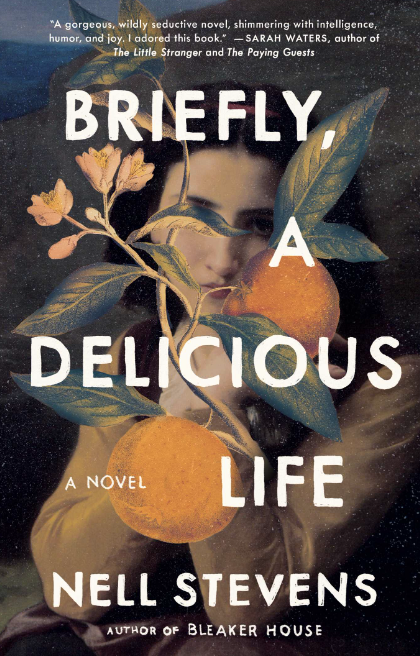 Briefly, A Delicious Life

by Nell Stevens
-Historical
-Paranormal
-Magical realism
An unforgettable debut novel from an award-winning writer: a lively, daring ghost story about a teenage ghost who falls in love with a writer who doesn't know she exists.

In 1473, fourteen-year-old Blanca dies in a hilltop monastery in Mallorca. Nearly four hundred years later, when George Sand, her two children, and her lover Frederic Chopin arrive in the village, Blanca is still there: a spirited, funny, righteous ghost, she's been hanging around the monastery since her accidental death, spying on the monks and the townspeople and keeping track of her descendants.

Blanca is enchanted the moment she sees George, and the magical novel unfolds as a story of deeply felt, unrequited longing—the impossible love of a teenage ghost for a woman who can't see her and doesn't know she exists. As George and Chopin, who wear their unconventionality, in George's case, literally on their sleeves, find themselves in deepening trouble with the provincial, 19th-century villagers, Blanca watches helplessly and reflects on the circumstances of her own death (which involves an ill-advised love affair with a monk-in-training).

Charming, original, and emotionally moving, this is a surprisingly touching story about romantic fixation and a powerful meditation on creativity.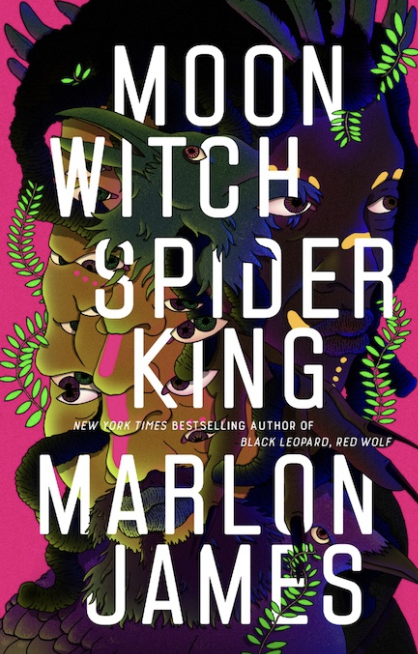 Moon Witch, Spider King

by Marlon James
-Horror
-Gore (seriously)
-Fantasy
From Marlon James, author of the bestselling National Book Award finalist Black Leopard, Red Wolf, the second book in the Dark Star trilogy, his African Game of Thrones.

In Black Leopard, Red Wolf, Sogolon the Moon Witch proved a worthy adversary to Tracker as they clashed across a mythical African landscape in search of a mysterious boy who disappeared. In Moon Witch, Spider King, Sogolon takes center stage and gives her own account of what happened to the boy, and how she plotted and fought, triumphed and failed as she looked for him. It's also the story of a century-long feud—seen through the eyes of a 177-year-old witch—that Sogolon had with the Aesi, chancellor to the king. It is said that Aesi works so closely with the king that together they are like the eight limbs of one spider. Aesi's power is considerable—and deadly. It takes brains and courage to challenge him, which Sogolon does for reasons of her own.

Both a brilliant narrative device—seeing the story told in Black Leopard, Red Wolf from the perspective of an adversary and a woman—as well as a fascinating battle between different versions of empire, Moon Witch, Spider King delves into Sogolon's world as she fights to tell her own story. Part adventure tale, part chronicle of an indomitable woman who bows to no man, it is a fascinating novel that explores power, personality, and the places where they overlap.
We hope you've got a lot more on your TBR now! One of these books is in our Halloween box! Did you miss the cut-off to get it? Or want the box but not the subscription? (Trick or) treat yourself, get yours here: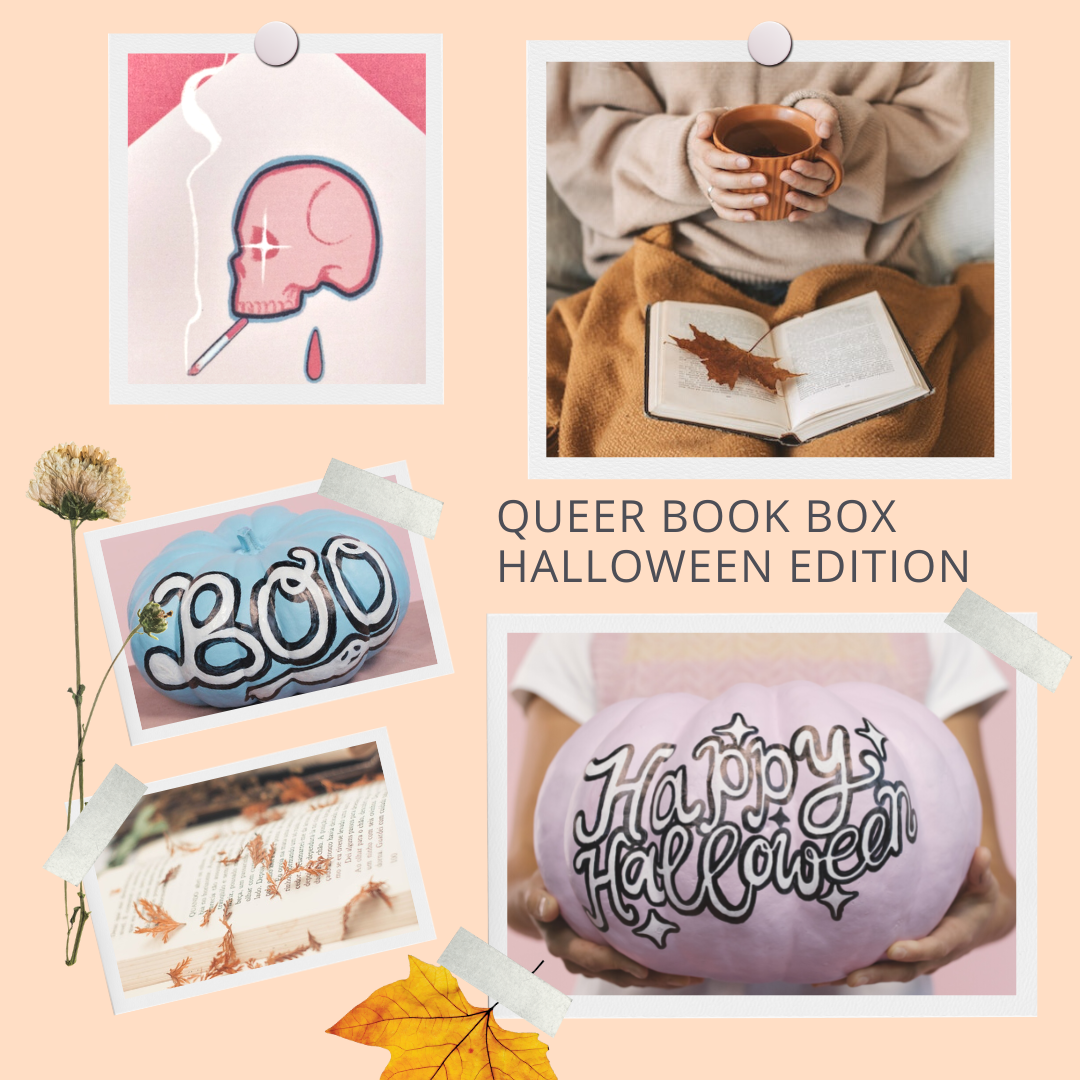 If you can't get enough of these queer thrillers, you can order any of these at your local independent queer bookshop, or online at gaystheword.co.uk
Happy Halloween! (threateningly)